reptile skin shoes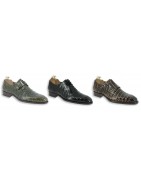 Welcome to Center51.com, your online destination for men's reptile shoes! Discover our incredible collection that perfectly blends style and exoticism. Whether you're a reptile enthusiast or simply looking for a unique look, you'll find what you're looking for with us.
Our men's shoes are carefully crafted using high-quality materials to ensure optimal comfort throughout the day. From textured snake skin to bold lizard patterns, our reptile shoes add a wild and elegant touch to any outfit.
Whether it's for a special evening, a casual outing with friends, or simply to showcase your style, our reptile shoes are the perfect choice. Browse our selection and let yourself be captivated by the fascination of these mysterious creatures.