Center 51 Mens dress shoes Blake stitched Collection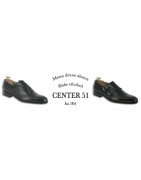 Center 51 Mens dress shoes Blake stitched is a complete collection of dress shoes to wear at elegant, casual or formal events. City shoes are worn by many as their everyday shoes and are also widely used for parties and special occasions.
This collection is sewn "Blake"
It is a simple and robust construction used on luxury shoes and elegant leather-soled street shoes such as loafers, buckle shoes, derbys and oxfords.
Blake stitching involves sewing the sole from the inside to the outside to secure the inner and outer soles. Blake is the name of the inventor who realized at the end of the nineteenth century, a machine to mechanize this sewing through and through.