Monk strap shoes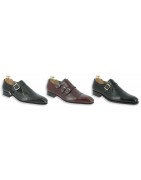 Welcome to Center51.com, your ultimate destination for men's buckle shoes! Discover our incredible collection that combines style and comfort, designed especially for modern and stylish men.
Whether you're looking for buckle loafers for a casual look or buckle derbies for a sophisticated style, we have everything you need. Our shoes are crafted with premium materials, ensuring durability and resistance.
Each pair is carefully designed to perfectly fit your foot, providing optimal comfort throughout the day. Whether it's an important business meeting or a special evening, our men's buckle shoes will add a touch of elegance to your outfit.
Look no further, visit Center51.com now and find the pair of men's buckle shoes that matches your unique style. Your satisfaction is our top priority. Get ready to turn heads with your irresistible shoes!