Socks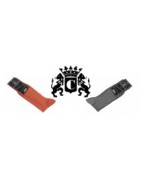 Welcome to Center51.com, your ultimate destination for high-quality men's socks! At Center51, we understand that socks are more than just an accessory. They are an expression of your unique style and personality. That's why we have carefully curated a wide range of socks, from timeless classics to bold and colorful designs.
Our socks are crafted from soft and durable materials, ensuring optimal comfort throughout the day. Whether you're looking for socks for the office, special occasions, or simply to feel good, we've got you covered.
Explore our diverse collection and be captivated by our stylish and trendy designs. We're confident that you'll find the perfect pair that will make every step a style statement. Join us at Center51.com and add a touch of charm to your feet!