Loafers and Moccasins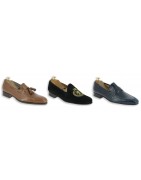 Welcome to Center51.com, your destination for the most stylish and comfortable men's loafers! We take pride in presenting our extensive collection of mocassins that combine timeless style and exceptional quality.
Whether you're looking for classic leather mocassins or more casual suede options, we have what you need. Our mocassins are carefully crafted to provide a perfect fit and absolute comfort with every step.
As you browse through our selection, you'll discover a variety of colors, designs, and finishes to elegantly complement your outfit. Whether it's a sophisticated evening or a day at work, our mocassins add a touch of sophistication to your style.
Explore our collection of men's mocassins on Center51.com and take a step towards ultimate elegance and comfort!