Center 51 Mens fine quality shoes artisanal sewn Collection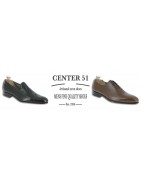 Welcome to Center51.com, your go-to destination for fine quality, artisan-sewn men's shoes. Explore our meticulously crafted collection of shoes, where each pair is handmade with care and precision. We take pride in providing you with the utmost comfort and exceptional durability. Whether you're in search of formal, casual, or athletic shoes, we have exactly what you need.
At Center51, we strive to offer products of unparalleled quality. Our collection stands out with its timeless elegance and refined style. You deserve the best, and that's precisely what we deliver.
Browse our website now and find the perfect pair of shoes that embodies your unique style. Trust Center51 for shoes that combine comfort, craftsmanship, and exceptional style.