Lace-up shoes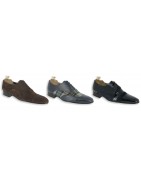 Welcome to Center51.com, your online destination for the trendiest men's lace-up shoes! We are delighted to present our extensive selection of lace-up shoes designed for stylish and fashion-conscious men. Whether you're in search of classic derbies or sophisticated brogues, we've got you covered.
At Center51.com, we are committed to providing you with an exceptional shopping experience. Our shoes are crafted from high-quality materials, combining comfort and durability. With renowned brands and diverse designs, we have something to suit every taste.
Explore our online collection now and find the perfect pair that will turn heads with every step you take. Our team is here to assist you in finding the ideal size and answer any questions you may have. Get ready to make a statement with your new men's lace-up shoes from Center51.com!