Hand welted Goodyear shoes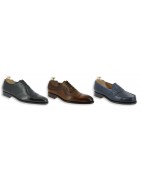 Welcome to Center51.com, your go-to destination for Goodyear welted shoes for men! If you're in search of superior craftsmanship, you've come to the right place. Our extensive collection of Goodyear welted shoes offers the perfect blend of timeless elegance and exceptional durability.
Every pair of shoes we offer is meticulously crafted by passionate artisans who master the art of Goodyear welt construction. This traditional manufacturing technique ensures enhanced resilience and unparalleled longevity. You can rely on our shoes to accompany you on any occasion, whether it's a business meeting or an elegant evening affair.
Explore our diverse collection of Goodyear welted shoes for men and make a statement with elegance and refinement. At Center51.com, we are committed to providing you with high-quality products and exceptional customer service. Get ready to be captivated by our Goodyear welted shoes!