Sandals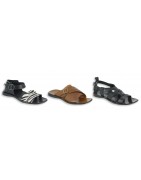 Welcome to Center51.com, your go-to destination for men's sandals and flip-flops! Discover our incredible selection that combines style, comfort, and superior quality.
Whether you're looking for sandals for your summer getaways or flip-flops for a casual look, we have what you need. Our collection is carefully curated by our fashion experts to bring you the latest trends and the most fashionable brands.
Our sandals and flip-flops are crafted with artisanal expertise and premium materials, ensuring a perfect fit and exceptional durability.
Don't let your feet go unnoticed this summer! Browse our website now and find the pair that will perfectly complement your style. At Center51.com, we are committed to providing you with a pleasant shopping experience and exceptional customer service. Your satisfaction is our number one priority!