Return

Offer valid for European Union countries according to the Paypal T & Cs, no returns from countries outside the EU will be accepted.
Your satisfaction is essential! If an item does not suit you, for whatever reason, you can exchange it or get a refund. You have a legal period of 14 days to exercise your right of withdrawal from the date of receipt of your package.
Contact our online sales service: +33 1 8508 8830 or WhatsApp: +33 6 52 22 26 18 to notify us of your return or exchange.
To make your return, return within 14 days of receipt the new item (s) and in their original packaging, accompanied by the invoice (which you received with your items) to the following address: Center 51 boutique, 51 rue meslay, 75003 Paris, France
Please note returns must imperatively be returned to our premises. No return to a parcel or other relay point will be accepted.
The exchange for an identical article (other size, other color) is done at no additional cost. The exchange for a different item may be subject to additional costs depending on the price of the model of your choice. We will exchange or refund you as soon as possible and at the latest within 30 days of exercising the right of withdrawal.
In the case of an exchange there will be shipping costs in order to return the item to you, we will offer you a choice of carriers.
Return Shipping Refund with PayPal
If you choose the method of payment by Paypal, returns are free. If an article does not suit you, Paypal reimburses the return costs. To find out more, click here.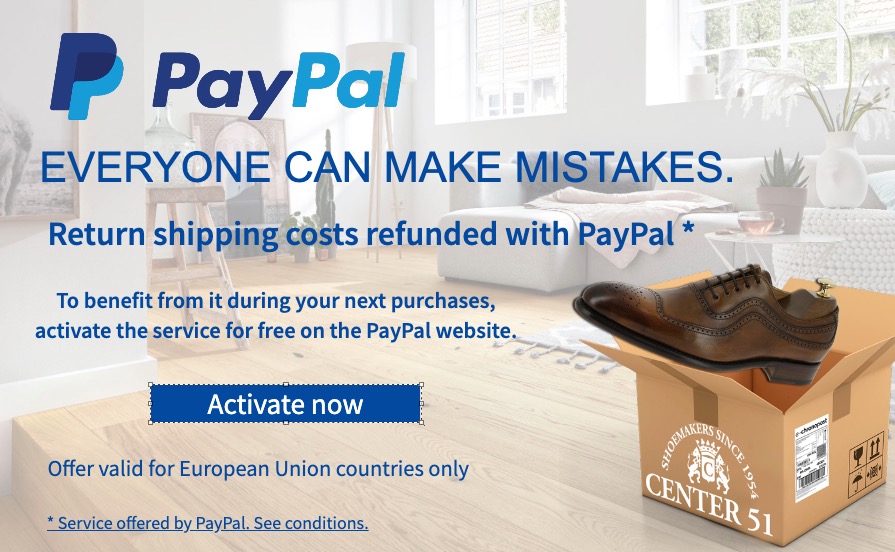 Do you want to change size? Or just cancel your order?
The return costs are reimbursed to you with Paypal!
How to take advantage of it?
- Activate this service dedicated to returns on the Paypal site (to be done BEFORE placing your order)
- Then place your order and pay via your Paypal account
Required conditions :
- Having activated the service
- Have paid the order with Paypal
- Have returned the product within 14 working days and be accepted by our services
Refund procedure:
- Log into your PayPal account and select the transaction related to the purchase of the returned item. In the details of your transaction, click on Request reimbursement of your return costs.
- Fill in the fields of the form, download the requested supporting documents, and send your request.
If a document is missing from your file, from the date of the request for additional information sent to you, you will have an additional 14 days to download the missing document. To modify your request, log into your PayPal account and select the transaction related to the purchase of the returned item.
You can consult the general conditions of exchange here.


This service is offered by Paypal, regardless of our company.
Also for any questions, do not hesitate to consult the dedicated Paypal help or to contact their customer service.